Style 3 Rivet System® Workbenches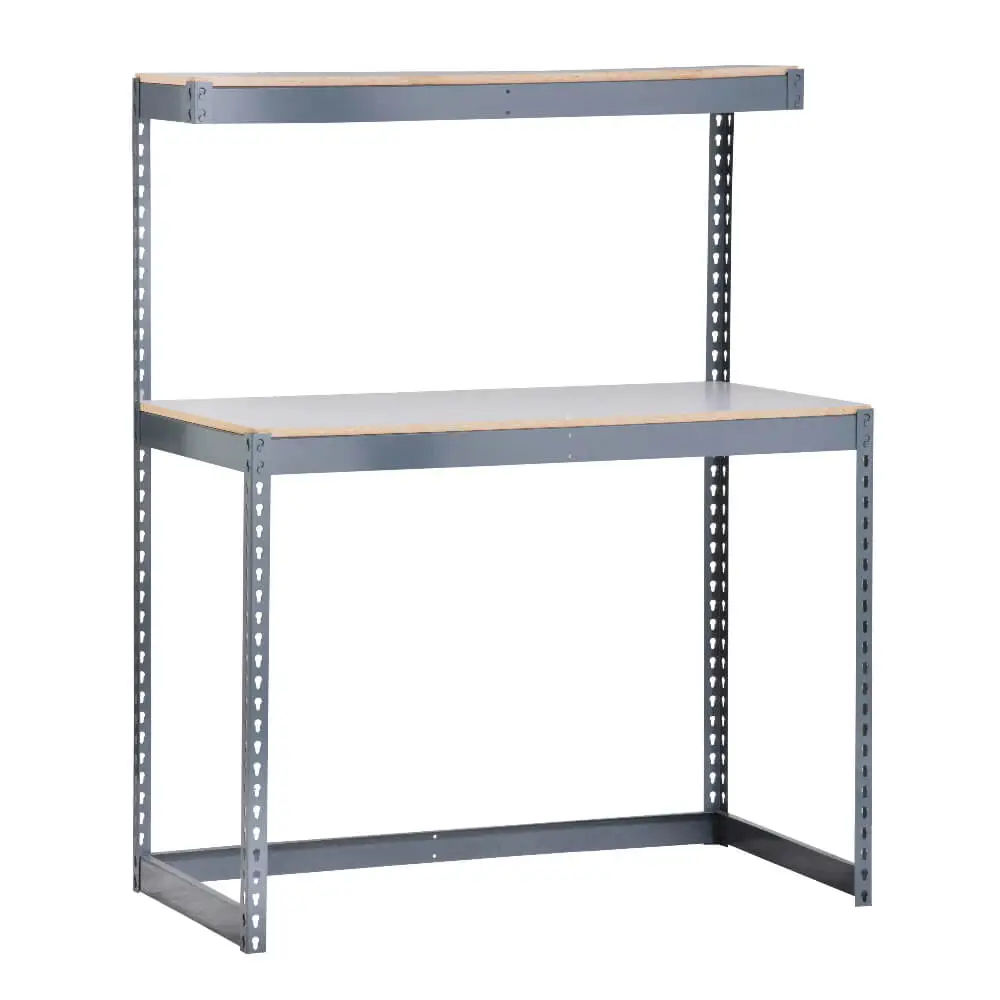 Style 3 Rivet System® Workbenches
$70.55 – $195.86
Our popular Rivet System® Workbenches are extremely durable and are an exceptional value.
Offering the advantage of rugged, boltless design, units are a snap to assemble.
Work Surface: Available in either 5/8" particle board or smooth white laminate.
Height: Work surfaces are 36" high. Riser Shelf sits 24″ above work surface and is 12″ deep.
Steel Color: Grey.
Quantity discounts will automatically be applied.
6-10 Units will deduct 4%
11-19 Units will deduct 8%
20+ Units will deduct 12%
48" Wide Workbench
Dimensions W x D"
Surface
Model No.
Net Each
Add To Cart

48 X 24"

Particle

3-WB4824

$70.55

# 3-WB4824

48 X 24"

Particle surface

48 X 24"

Laminate

3-LB4824

$82.51

# 3-LB4824

48 X 24"

Laminate surface

48 X 30"

Particle

3-WB4830

$75.55

# 3-WB4830

48 X 30"

Particle surface

48 X 30"

Laminate

3-LB4830

$104.57

# 3-LB4830

48 X 30"

Laminate surface

48 X 36"

Particle

3-WB4836

$80.76

# 3-WB4836

48 X 36"

Particle surface

48 X 36"

Laminate

3-LB4836

$106.51

# 3-LB4836

48 X 36"

Laminate surface

48 X 48"

Particle

3-WB4848

$95.82

# 3-WB4848

48 X 48"

Particle surface

48 X 48"

Laminate

3-LB4848

$115.16

# 3-LB4848

48 X 48"

Laminate surface
60" Wide Workbench
Dimensions W x D"
Surface
Model No.
Net Each
Add To Cart

60 X 24"

Particle

3-WB6024

$81.32

# 3-WB6024

60 X 24"

Particle surface

60 X 24"

Laminate

3-LB6024

$96.08

# 3-LB6024

60 X 24"

Laminate surface

60 X 30"

Particle

3-WB6030

$87.16

# 3-WB6030

60 X 30"

Particle surface

60 X 30"

Laminate

3-LB6030

$123.22

# 3-LB6030

60 X 30"

Laminate surface

60 X 36"

Particle

3-WB6036

$93.18

# 3-WB6036

60 X 36"

Particle surface

60 X 36"

Laminate

3-LB6036

$125.16

# 3-LB6036

60 X 36"

Laminate surface

60 X 48"

Particle

3-WB6048

$109.89

# 3-WB6048

60 X 48"

Particle surface

60 X 48"

Laminate

3-LB6048

$133.81

# 3-LB6048

60 X 48"

Laminate surface
72" Wide Workbench
Dimensions W x D"
Surface
Model No.
Net Each
Add To Cart

72 X 24"

Particle

3-WB7224

$95.05

# 3-WB7224

72 X 24"

Particle surface

72 X 24"

Laminate

3-LB7224

$112.70

# 3-LB7224

72 X 24"

Laminate surface

72 X 30"

Particle

3-WB7230

$102.24

# 3-WB7230

72 X 30"

Particle surface

72 X 30"

Laminate

3-LB7230

$122.59

# 3-LB7230

72 X 30"

Laminate surface

72 X 36"

Particle

3-WB7236

$109.58

# 3-WB7236

72 X 36"

Particle surface

72 X 36"

Laminate

3-LB7236

$147.89

# 3-LB7236

72 X 36"

Laminate surface

72 X 48"

Particle

3-WB7248

$128.87

# 3-WB7248

72 X 48"

Particle surface

72 X 48"

Laminate

3-LB7248

$157.49

# 3-LB7248

72 X 48"

Laminate surface
96" Wide Workbench
Dimensions W x D"
Surface
Model No.
Net Each
Add To Cart

96 X 24"

Particle

3-WB9624

$117.63

# 3-WB9624

96 X 24"

Particle surface

96 X 24"

Laminate

3-LB9624

$140.92

# 3-LB9624

96 X 24"

Laminate surface

96 X 30"

Particle

3-WB9630

$126.47

# 3-WB9630

96 X 30"

Particle surface

96 X 30"

Laminate

3-LB9630

$183.84

# 3-LB9630

96 X 30"

Laminate surface

96 X 36"

Particle

3-WB9636

$135.47

# 3-WB9636

96 X 36"

Particle surface

96 X 36"

Laminate

3-LB9636

$186.27

# 3-LB9636

96 X 36"

Laminate surface

96 X 48"

Particle

3-WB9648

$158.08

# 3-WB9648

96 X 48"

Particle surface

96 X 48"

Laminate

3-LB9648

$195.86

# 3-LB9648

96 X 48"

Laminate surface