Complete Units with Heavy Duty Uprights – 10′ High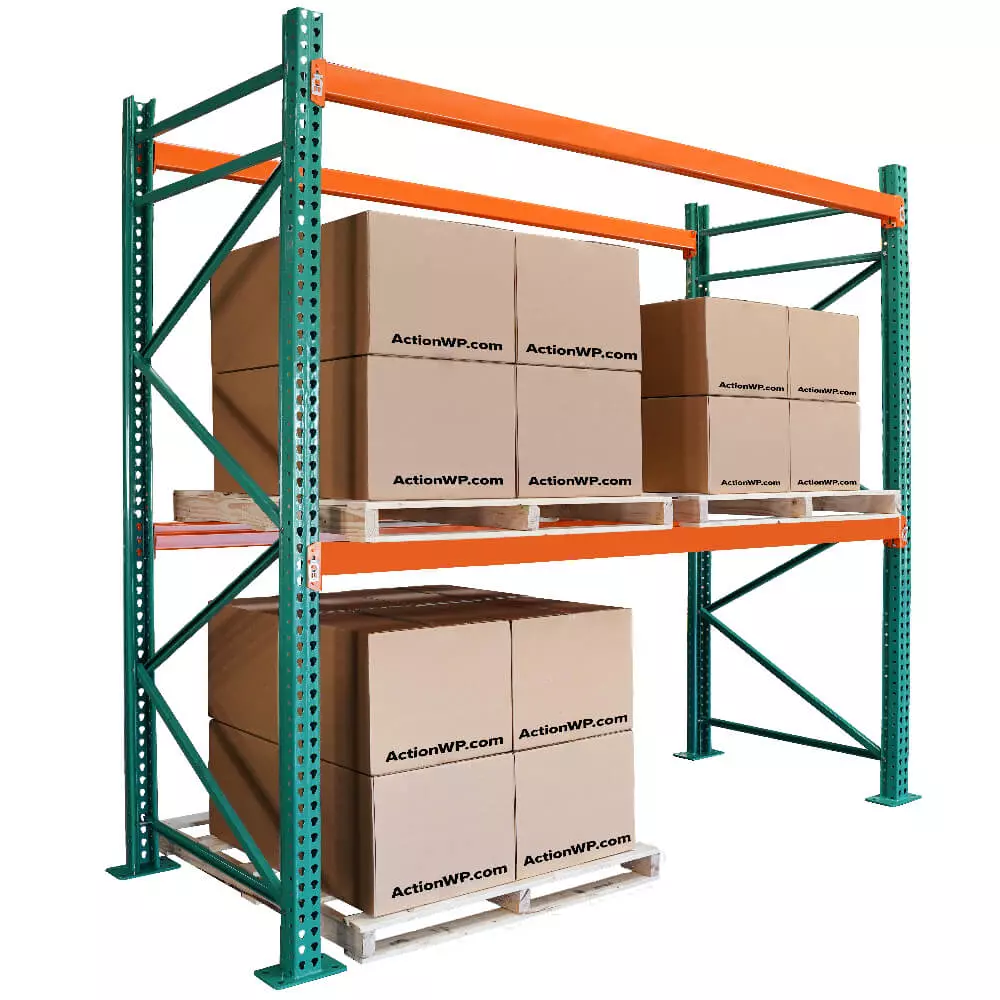 Complete Units with Heavy Duty Uprights – 10′ High
$460.05 – $615.75
Complete Starter Units consist of two heavy duty uprights and four load beams to create two levels.
Add-On Units consist of one bolted upright and four load beams.
Heavy Duty Uprights are 13 gauge and have an overall capacity of 28,300 lbs.
Columns are 3″ x 3″ with a 3″ x 5″ footplate (4-holes).
All pallet rack capacities are based on non-seismic installation.
Upright capacities are based on maximum 36″ beam spacing.
Quantity discounts will automatically be applied.
5-10 Units will deduct 4%
11+ Units will deduct 8%
96" Wide Complete Units
Dimensions W X D X H"
Beam Height
Beam Cap. (lbs/pair)
Model No.
Net Each
Add To Cart
Add-On Unit

96 X 36 X 120"

4"

5000

I310-36964

$460.05

I310-36964A

$319.17

# I310-36964

96 X 36 X 120"

4" beam height

5000 beam cap lbs pair

96 X 42 X 120"

4"

5000

I310-42964

$483.14

I310-42964A

$330.72

# I310-42964

96 X 42 X 120"

4" beam height

5000 beam cap lbs pair

96 X 48 X 120"

4"

5000

I310-48964

$495.38

I310-48964A

$336.84

# I310-48964

96 X 48 X 120"

4" beam height

5000 beam cap lbs pair

96 X 36 X 120"

5"

7000

I310-36965

$484.53

I310-36965A

$343.65

# I310-36965

96 X 36 X 120"

5" beam height

7000 beam cap lbs pair

96 X 42 X 120"

5"

7000

I310-42965

$507.62

I310-42965A

$355.20

# I310-42965

96 X 42 X 120"

5" beam height

7000 beam cap lbs pair

96 X 48 X 120"

5"

7000

I310-48965

$519.86

I310-48965A

$361.32

# I310-48965

96 X 48 X 120"

5" beam height

7000 beam cap lbs pair
108" Wide Complete Units
Dimensions W X D X H"
Beam Height
Beam Cap. (lbs/pair)
Model No.
Net Each
Add To Cart
Add-On Unit

108 X 36 X 120"

4"

4000

I310-361084

$480.74

I310-361084A

$339.86

# I310-361084

108 X 36 X 120"

4" beam height

4000 beam cap lbs pair

108 X 42 X 120"

4"

4000

I310-421084

$503.83

I310-421084A

$351.41

# I310-421084

108 X 42 X 120"

4" beam height

4000 beam cap lbs pair

108 X 48 X 120"

4"

4000

I310-481084

$516.07

I310-481084A

$357.53

# I310-481084

108 X 48 X 120"

4" beam height

4000 beam cap lbs pair

108 X 36 X 120"

5"

6200

I310-361085

$509.28

I310-361085A

$368.41

# I310-361085

108 X 36 X 120"

5" beam height

6200 beam cap lbs pair

108 X 42 X 120"

5"

6200

I310-421085

$532.38

I310-421085A

$379.95

# I310-421085

108 X 42 X 120"

5" beam height

6200 beam cap lbs pair

108 X 48 X 120"

5"

6200

I310-481085

$544.62

I310-481085A

$386.07

# I310-481085

108 X 48 X 120"

5" beam height

6200 beam cap lbs pair
120" Wide Complete Units
Dimensions W X D X H"
Beam Height
Beam Cap. (lbs/pair)
Model No.
Net Each
Add To Cart
Add-On Unit

120 X 36 X 120"

4"

3300

I310-361204

$500.32

I310-361204A

$359.45

# I310-361204

120 X 36 X 120"

4" beam height

3300 beam cap lbs pair

120 X 42 X 120"

4"

3300

I310-421204

$523.42

I310-421204A

$370.99

# I310-421204

120 X 42 X 120"

4" beam height

3300 beam cap lbs pair

120 X 48 X 120"

4"

3300

I310-481204

$535.66

I310-481204A

$377.11

# I310-481204

120 X 48 X 120"

4" beam height

3300 beam cap lbs pair

120 X 36 X 120"

5"

5300

I310-361205

$533.21

I310-361205A

$392.33

# I310-361205

120 X 36 X 120"

5" beam height

5300 beam cap lbs pair

120 X 42 X 120"

5"

5300

I310-421205

$556.30

I310-421205A

$403.88

# I310-421205

120 X 42 X 120"

5" beam height

5300 beam cap lbs pair

120 X 48 X 120"

5"

5300

I310-481205

$568.55

I310-481205A

$410.00

# I310-481205

120 X 48 X 120"

5" beam height

5300 beam cap lbs pair
144" Wide Complete Units
Dimensions W X D X H"
Beam Height
Beam Cap. (lbs/pair)
Model No.
Net Each
Add To Cart
Add-On Unit

144 X 36 X 120"

5"

3600

I310-361445

$580.42

I310-361445A

$439.54

# I310-361445

144 X 36 X 120"

5" beam height

3600 beam cap lbs pair

144 X 42 X 120"

5"

3600

I310-421445

$603.51

I310-421445A

$451.09

# I310-421445

144 X 42 X 120"

5" beam height

3600 beam cap lbs pair

144 X 48 X 120"

5"

3600

I310-481445

$615.75

I310-481445A

$457.21

# I310-481445

144 X 48 X 120"

5" beam height

3600 beam cap lbs pair