Heavy Duty Load Beams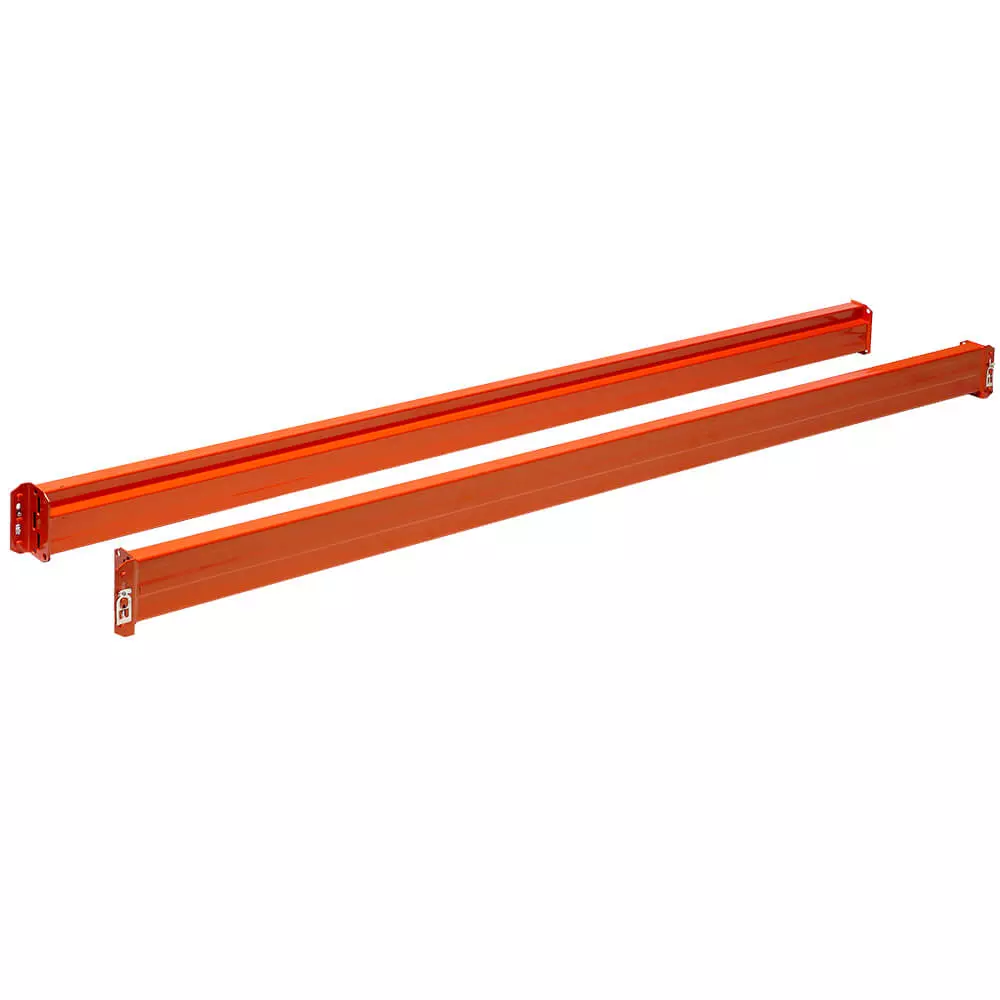 Heavy Duty Load Beams
$34.81 – $70.81
Heavy Duty 15-gauge high tensile strength steel
Beam length measured by clear-span between uprights
Built-in safety clip prevents detachment from uprights
Color: Orange
May be used with a forklift, hydraulic lift or electric lift.
ORDERING INFORMATION
Allow a minimum of 3″ clearance between pallet(s) and uprights. For example, two 48″ wide pallets would require 108″ long load beams. Two beams are needed for each shelf. Capacities based on evenly distributed load and non-seismic installation. Priced per beam.
Capacities based on two pallets per level. Addition of a third pallet reduces capacity by 50%. All capacities are based on non-seismic installation.
Quantity discounts will automatically be applied.
11-24 Units will deduct 4%
25-49 Units will deduct 8%
50+ Units will deduct 12%
Beam Length
Beam Height
Capacity per Pair (lbs.)*
Model No.
Net Each
Add To Cart

96"

3.5"

3,500

I-3596

$34.81

# I-3596

96"

3.5" beam height

3,500 capacity per pair lbs

96"

4"

5,000

I-496

$36.96

# I-496

96"

4" beam height

5,000 capacity per pair lbs

96"

5"

7,000

I-596

$40.28

# I-596

96"

5" beam height

7,000 capacity per pair lbs

108"

4"

4,000

I-4108

$41.21

# I-4108

108"

4" beam height

4,000 capacity per pair lbs

108"

5"

6,200

I-5108

$47.13

# I-5108

108"

5" beam height

6,200 capacity per pair lbs

120"

4"

3,300

I-4120

$45.49

# I-4120

120"

4" beam height

3,300 capacity per pair lbs

120"

5"

5,300

I-5120

$52.13

# I-5120

120"

5" beam height

5,300 capacity per pair lbs

144"

5"

3,600

I-5144

$62.00

# I-5144

144"

5" beam height

3,600 capacity per pair lbs

144"

6"

6,000

I-6144

$70.81

# I-6144

144"

6" beam height

6,000 capacity per pair lbs
The Action Wholesale Heavy Duty Load Beams are made for 15-gauge high tensile strength. Made strong to hold the dense and heavy warehouse pallets racks. Beam length measured by clear space between the uprights. Load Beams comes with a built-in safety clip to prevent detachment from shelving bars. It can be used with a forklift, hydraulic lift, or electric lift.For individual Pallet Rack Components, click on a link below:
Pay securely and conveniently