The Best Industrial Shelving Solutions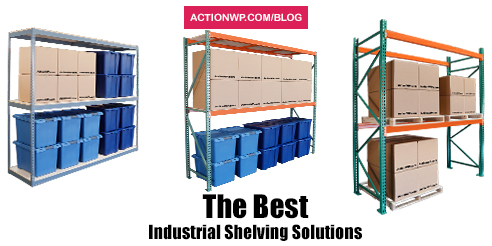 When it comes to industrial facilities, investing in the proper shelves for your business can help keep you organized, maximize your space, and optimize your employee's productivity. Given there are so many shelving options available, attempts to select the most suitable shelves for your products can be rather time consuming. That's why we're here to help you find the best industrial shelving solutions. Before we get into detail about what kind of shelves would be ideal for your business, there are several things you may want to consider before purchasing.
5 Things to Consider Before Buying Industrial Shelving
Consider the following tips to select the right shelves that are durable, flexible, easy to install, and (most importantly) fit the needs of your business:
1. Product. The products you plan to store on your industrial shelving play a key part in determining which type will be the most suitable for your business. Consider the weight of your products, are they heavy or light? Are the products durable or fragile?
2. Size. Measurements of the amount of floor space, height, wall space, and the amount and size of the items that need to be stored is essential for finding the correct industrial shelving units for your business. This will not only help you configure the size but also will help determine how many shelving units and the overall shelf spacing for your ideal solution.
3. Accessibility. Thinking about how your items will be placed and removed is also a key factor. Are your employees going to be using traditional forklifts, side loaders, reach trucks or are they going to be removing them by hand? You want to be sure you choose the correct type of shelving that is accessible enough for your product removal process.
4. Duration. If your business is always moving around you can opt for shelves that are boltless and interchangeable, for maximum efficiency and flexibility.
5. Investment. Shelves will play as a foundation for your industrial facility. Since they will help keep your items safe and secure, you're going to want to invest in the best shelves to prevent any damages.
Now that we've gone over the important aspects of selecting the right shelves, let's get technical.
Pallet Racking
Pallet racking is ideal for received inventory that is stored on pallets.
Pallet racks
efficiently organize your storage space, helping to control your inventory.
Pallet rack components
can be used with forklifts and also hand stacking. Pallet racking is very versatile since it allows you to adjust each individual shelf height to better suit your palletized inventory. One of the advantages of a pallet racking system is that they are easy to assemble. Additionally, the Teardrop style of pallet racking system includes an automatic safety lock on each load beam, securing the beam to the upright. This system is interchangeable with a wide range of modifications to tailor to your needs. Pallet racking systems come in both
regular-duty
units, which hold up to 16,000 lbs. and range from 8'-12' high, and
heavy-duty
units which hold up to 28,300 lbs. and range from 10'-16' high.
Bulk Storage Racks
Bulk racks
offer a reliable solution for gaining control of your inventory. This unique industrial shelving system does not require a shelf or beam along the base of the unit, so your inventory can be placed directly on the floor as well. One of the other advantages of a bulk rack is that they tremendously increase storage or warehouse flexibility because you can connect multiple units using shared uprights or you can set up a single, free-standing unit. Another advantage is that bulk storage racks shelf capacities range from 1,000 to 2,000 pounds! However, one important thing to note is that they are not to be used with forklifts.
There are namely 4 different types of bulk racks:
Cantilever Racking

Since Cantilever arms extend from the braces forming open shelves, cantilever racking systems are great for your non-traditional items that are awkward in dimension. This racking system is specifically designed to help store and secure items such as tubes, bar stocks, or other long materials that typically utilize side loaders. Cantilever racks can be seen in industries such as furniture, plumbing, building material, and so on. The advantages of a cantilever racking system provide an easy way to stay organized. Additionally, units can also be assembled as a single rack, or continuous row. Cantilever racks are extremely versatile where you can even purchase additional cantilever arms allowing for added storage space for items of all shapes, sizes and lengths.

Final Thoughts

Whatever type of business you are operating, selecting the proper industrial shelving solution can truly maximize your company's organization, accessibility, efficiency, and security. Action Wholesale Products promises to deliver superior service, premium product quality, and always guarantee the lowest prices. Let us help you find solutions to your industrial shelving needs.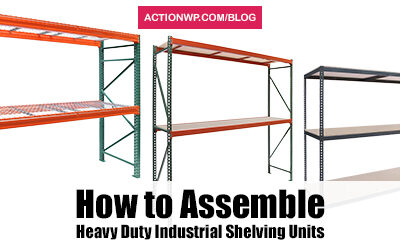 How to Assemble Heavy Duty Industrial Shelving Units Industrial shelving comes in a variety of different shapes and sizes....
read more