Complete Units with Regular Duty Uprights – 8′ High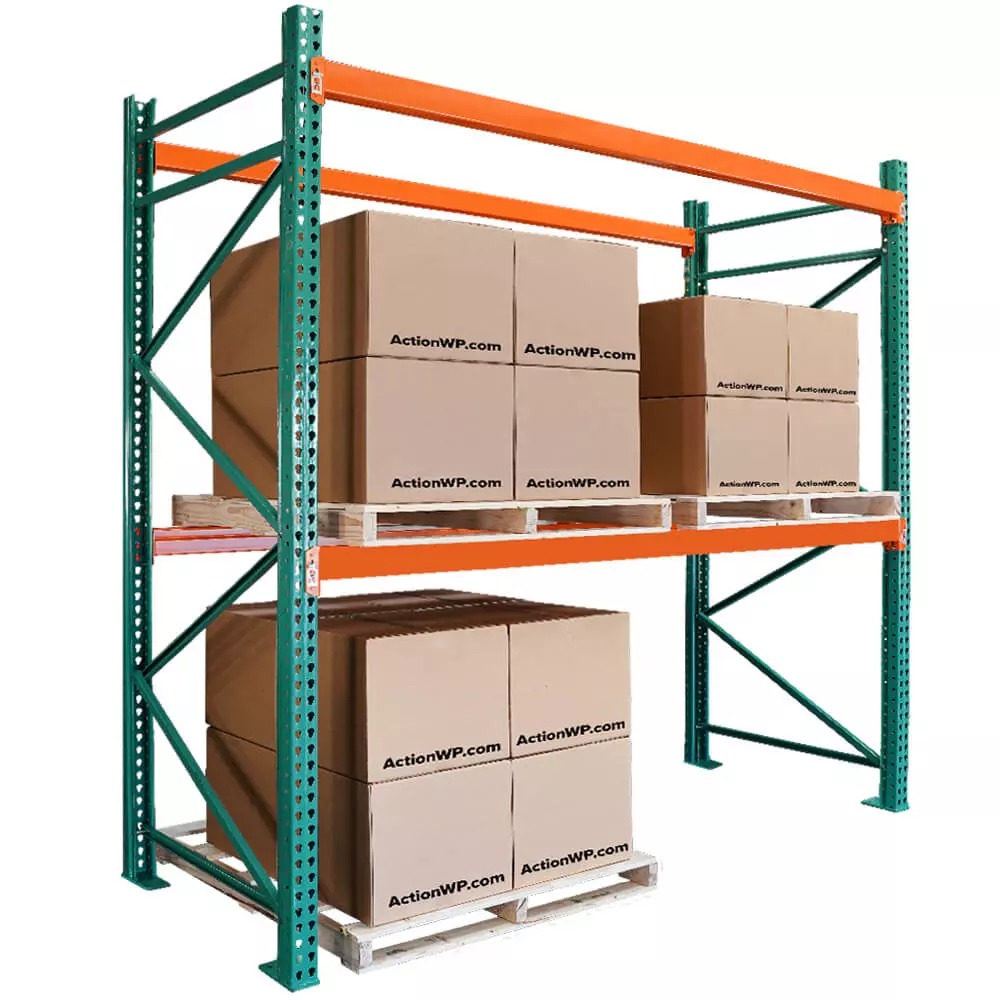 Complete Units with Regular Duty Uprights – 8′ High
$296.43 – $377.57
Complete Starter Units consist of two regular duty uprights and four load beams to create two levels.
Add-On Units consist of one bolted upright and four load beams.
Regular Duty Uprights are 15 gauge and have an overall capacity of 16,000 lbs.
Columns are 3″ x 3″ with a 3″ x 5″ footplate (2-holes).
All pallet rack capacities are based on non-seismic installation.
Upright capacities are based on maximum 36″ beam spacing.
Quantity discounts will automatically be applied.
5-10 Units will deduct 4%
11+ Units will deduct 8%
96" Wide Complete Units
Dimensions W X D X H"
Beam Height
Beam Cap. (lbs/pair)
Model No.
Net Each
Add To Cart
Add-On Unit

96 X 36 X 96"

4"

5000

I8-36964

$308.85

I8-36964A

$226.00

# I8-36964

96 X 36 X 96"

4" beam height

5000 beam cap lbs pair

96 X 42 X 96"

4"

5000

I8-42964

$315.15

I8-42964A

$228.34

# I8-42964

96 X 42 X 96"

4" beam height

5000 beam cap lbs pair

96 X 48 X 96"

4"

5000

I8-48964

$317.40

I8-48964A

$231.49

# I8-48964

96 X 48 X 96"

4" beam height

5000 beam cap lbs pair

96 X 36 X 96"

5"

7000

I8-36965

$322.13

I8-36965A

$232.62

# I8-36965

96 X 36 X 96"

5" beam height

7000 beam cap lbs pair

96 X 42 X 96"

5"

7000

I8-42965

$328.43

I8-42965A

$241.62

# I8-42965

96 X 42 X 96"

5" beam height

7000 beam cap lbs pair

96 X 48 X 96"

5"

7000

I8-48965

$334.94

I8-48965A

$244.77

# I8-48965

96 X 48 X 96"

5" beam height

7000 beam cap lbs pair
108" Wide Complete Units
Dimensions W X D X H"
Beam Height
Beam Cap. (lbs/pair)
Model No.
Net Each
Add To Cart
Add-On Unit

108 X 36 X 96"

4"

4000

I8-361084

$296.43

I8-361084A

$248.02

# I8-361084

108 X 36 X 96"

4" beam height

4000 beam cap lbs pair

108 X 42 X 96"

4"

4000

I8-421084

$302.72

I8-421084A

$215.91

# I8-421084

108 X 42 X 96"

4" beam height

4000 beam cap lbs pair

108 X 48 X 96"

4"

4000

I8-481084

$309.23

I8-481084A

$219.06

# I8-481084

108 X 48 X 96"

4" beam height

4000 beam cap lbs pair

108 X 36 X 96"

5"

6200

I8-361085

$315.83

I8-361085A

$221.62

# I8-361085

108 X 36 X 96"

5" beam height

6200 beam cap lbs pair

108 X 42 X 96"

5"

6200

I8-421085

$322.13

I8-421085A

$235.32

# I8-421085

108 X 42 X 96"

5" beam height

6200 beam cap lbs pair

108 X 48 X 96"

5"

6200

I8-481085

$332.89

I8-481085A

$238.47

# I8-481085

108 X 48 X 96"

5" beam height

6200 beam cap lbs pair
120" Wide Complete Units
Dimensions W X D X H"
Beam Height
Beam Cap. (lbs/pair)
Model No.
Net Each
Add To Cart
Add-On Unit

120 X 36 X 96"

4"

3300

I8-361204

$310.47

I8-361204A

$248.11

# I8-361204

120 X 36 X 96"

4" beam height

3300 beam cap lbs pair

120 X 42 X 96"

4"

3300

I8-421204

$316.77

I8-421204A

$229.96

# I8-421204

120 X 42 X 96"

4" beam height

3300 beam cap lbs pair

120 X 48 X 96"

4"

3300

I8-481204

$323.28

I8-481204A

$233.11

# I8-481204

120 X 48 X 96"

4" beam height

3300 beam cap lbs pair

120 X 36 X 96"

5"

5300

I8-361205

$332.34

I8-361205A

$240.21

# I8-361205

120 X 36 X 96"

5" beam height

5300 beam cap lbs pair

120 X 42 X 96"

5"

5300

I8-421205

$338.64

I8-421205A

$251.83

# I8-421205

120 X 42 X 96"

5" beam height

5300 beam cap lbs pair

120 X 48 X 96"

5"

5300

I8-481205

$345.15

I8-481205A

$254.98

# I8-481205

120 X 48 X 96"

5" beam height

5300 beam cap lbs pair
144" Wide Complete Units
Dimensions W X D X H"
Beam Height
Beam Cap. (lbs/pair)
Model No.
Net Each
Add To Cart
Add-On Unit

144 X 36 X 96"

5"

3600

I8-361445

$364.77

I8-361445A

$260.36

# I8-361445

144 X 36 X 96"

5" beam height

3600 beam cap lbs pair

144 X 42 X 96"

5"

3600

I8-421445

$371.06

I8-421445A

$284.26

# I8-421445

144 X 42 X 96"

5" beam height

3600 beam cap lbs pair

144 X 48 X 96"

5"

3600

I8-481445

$377.57

I8-481445A

$287.40

# I8-481445

144 X 48 X 96"

5" beam height

3600 beam cap lbs pair