Series 1 Rivet System® Boltless Shelving – 10' High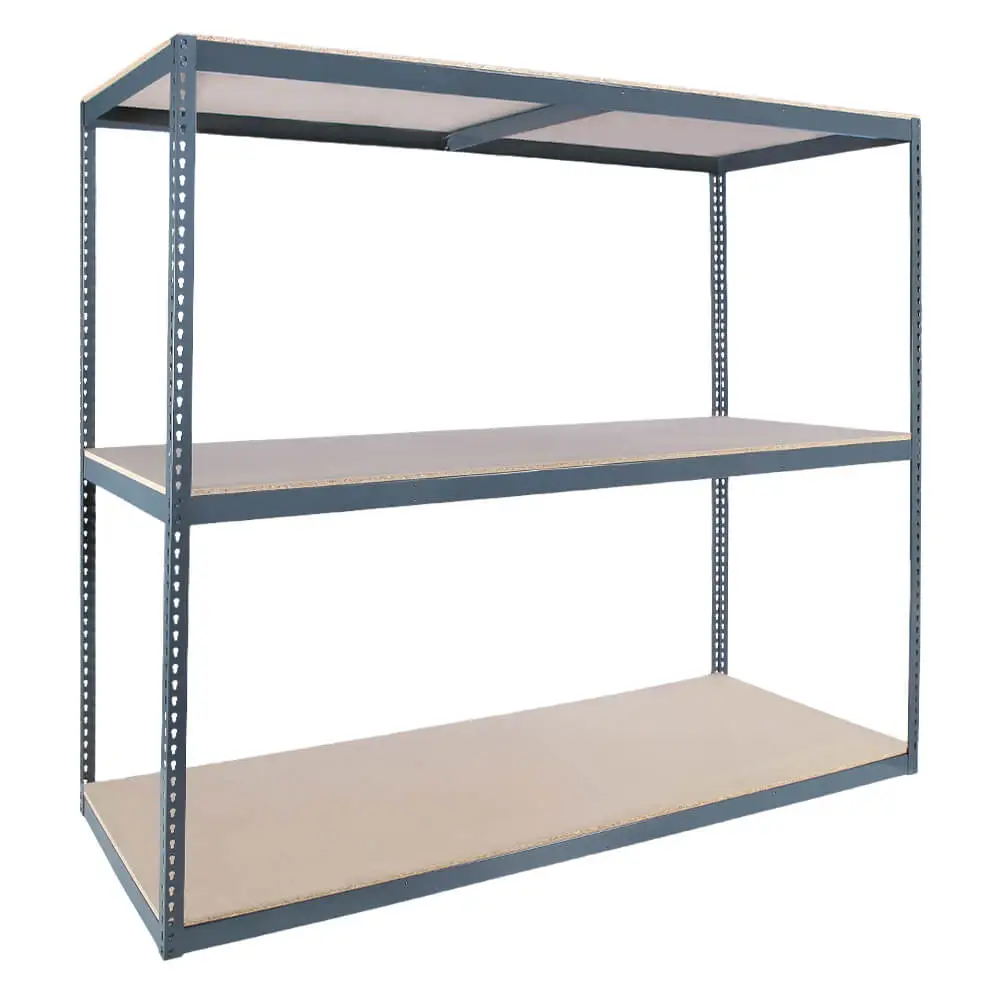 Series 1 Rivet System® Boltless Shelving – 10' High
$109.43 – $326.30
Capacity: 600 lbs. to 1500 lbs. per shelf
Boltless Design: Fast and easy assembly without nuts, bolts or shelf clips
Adjustable Shelves: Every 1 ½"
Supports: One shelf deck support per shelf included with "H" in model number
Decking Included: Industrial 5/8″ particle board
Height: Units come 10′ (120″) high. Standard height: 7′ (84″).
Steel Color: Powder Coat Grey
Units come complete with three shelves.
Quantity discounts will automatically be applied.
6-10 Units will deduct 4%
11-19 Units will deduct 8%
20-29 Units will deduct 12%
30+ Units will deduct 16%
48" Wide Complete Units
Dimensions W X D X H"
Shelf Cap. (LBS.)
Model No.
Net Each
Add To Cart
Extra Shelf

48 X 12 X 120"

800

3-120W4812W

$109.43

W4812W

$18.84

# 3-120W4812W

48 X 12 X 120"

800 shelf cap lbs

48 X 18 X 120"

800

3-120W4818W

$122.70

W4818W

$23.26

# 3-120W4818W

48 X 18 X 120"

800 shelf cap lbs

48 X 24 X 120"

800

3-120W4824W

$135.64

W4824W

$27.58

# 3-120W4824W

48 X 24 X 120"

800 shelf cap lbs

48 X 30 X 120"

800

3-120W4830W

$148.12

W4830W

$31.74

# 3-120W4830W

48 X 30 X 120"

800 shelf cap lbs

48 X 36 X 120"

800

3-120W4836W

$160.91

W4836W

$36.00

# 3-120W4836W

48 X 36 X 120"

800 shelf cap lbs

48 X 48 X 120"

800

3-120W4848W

$193.43

W4848W

$46.84

# 3-120W4848W

48 X 48 X 120"

800 shelf cap lbs
60" Wide Complete Units
Dimensions W X D X H"
Shelf Cap. (LBS.)
Model No.
Net Each
Add To Cart
Extra Shelf

60 X 18 X 120"

750

3-120W6018W

$137.14

W6018W

$28.08

# 3-120W6018W

60 X 18 X 120"

750 shelf cap lbs

60 X 18 X 120"

1,200

3-120W6018WH

$141.41

W6018WH

$29.50

# 3-120W6018WH

60 X 18 X 120"

1,200 shelf cap lbs

60 X 24 X 120"

750

3-120W6024W

$152.54

W6024W

$33.21

# 3-120W6024W

60 X 24 X 120"

750 shelf cap lbs

60 X 24 X 120"

1,200

3-120W6024WH

$157.91

W6024WH

$35.00

# 3-120W6024WH

60 X 24 X 120"

1,200 shelf cap lbs

60 X 30 X 120"

750

3-120W6030W

$167.54

W6030W

$38.21

# 3-120W6030W

60 X 30 X 120"

750 shelf cap lbs

60 X 30 X 120"

1,200

3-120W6030WH

$174.49

W6030WH

$40.53

# 3-120W6030WH

60 X 30 X 120"

1,200 shelf cap lbs

60 X 36 X 120"

750

3-120W6036W

$182.78

W6036W

$43.29

# 3-120W6036W

60 X 36 X 120"

750 shelf cap lbs

60 X 36 X 120"

1,200

3-120W6036WH

$191.14

W6036WH

$46.08

# 3-120W6036WH

60 X 36 X 120"

1,200 shelf cap lbs

60 X 48 X 120"

750

3-120W6048W

$220.28

W6048W

$55.79

# 3-120W6048W

60 X 48 X 120"

750 shelf cap lbs

60 X 48 X 120"

1,200

3-120W6048WH

$231.41

W6048WH

$59.50

# 3-120W6048WH

60 X 48 X 120"

1,200 shelf cap lbs
72" Wide Complete Units
Dimensions W X D X H"
Shelf Cap. (LBS.)
Model No.
Net Each
Add To Cart
Extra Shelf

72 X 18 X 120"

600

3-120W7218W

$152.93

W7218W

$33.34

# 3-120W7218W

72 X 18 X 120"

600 shelf cap lbs

72 X 18 X 120"

1,000

3-120W7218WH

$157.20

W7218WH

$34.76

# 3-120W7218WH

72 X 18 X 120"

1,000 shelf cap lbs

72 X 18 X 120"

1,500

3-120W7218WHD

$165.72

W7218WHD

$37.61

# 3-120W7218WHD

72 X 18 X 120"

1,500 shelf cap lbs

72 X 24 X 120"

600

3-120W7224W

$170.86

W7224W

$39.32

# 3-120W7224W

72 X 24 X 120"

600 shelf cap lbs

72 X 24 X 120"

1,000

3-120W7224WH

$176.22

W7224WH

$41.11

# 3-120W7224WH

72 X 24 X 120"

1,000 shelf cap lbs

72 X 24 X 120"

1,500

3-120W7224WHD

$184.75

W7224WHD

$43.95

# 3-120W7224WHD

72 X 24 X 120"

1,500 shelf cap lbs

72 X 30 X 120"

600

3-120W7230W

$188.30

W7230W

$45.13

# 3-120W7230W

72 X 30 X 120"

600 shelf cap lbs

72 X 30 X 120"

1,000

3-120W7230WH

$195.25

W7230WH

$47.45

# 3-120W7230WH

72 X 30 X 120"

1,000 shelf cap lbs

72 X 30 X 120"

1,500

3-120W7230WHD

$203.78

W7230WHD

$50.29

# 3-120W7230WHD

72 X 30 X 120"

1,500 shelf cap lbs

72 X 36 X 120"

600

3-120W7236W

$206.07

W7236W

$51.05

# 3-120W7236W

72 X 36 X 120"

600 shelf cap lbs

72 X 36 X 120"

1,000

3-120W7236WH

$214.43

W7236WH

$53.84

# 3-120W7236WH

72 X 36 X 120"

1,000 shelf cap lbs

72 X 36 X 120"

1,500

3-120W7236WHD

$222.96

W7236WHD

$56.68

# 3-120W7236WHD

72 X 36 X 120"

1,500 shelf cap lbs

72 X 48 X 120"

600

3-120W7248W

$248.54

W7248W

$65.21

# 3-120W7248W

72 X 48 X 120"

600 shelf cap lbs

72 X 48 X 120"

1,000

3-120W7248WH

$259.67

W7248WH

$68.92

# 3-120W7248WH

72 X 48 X 120"

1,000 shelf cap lbs

72 X 48 X 120"

1,500

3-120W7248WHD

$268.20

W7248WHD

$71.76

# 3-120W7248WHD

72 X 48 X 120"

1,500 shelf cap lbs
96" Wide Complete Units
Dimensions W X D X H"
Shelf Cap. (LBS.)
Model No.
Net Each
Add To Cart
Extra Shelf

96 X 18 X 120"

600

3-120W9618WH

$187.28

W9618WH

$44.79

# 3-120W9618WH

96 X 18 X 120"

600 shelf cap lbs

96 X 18 X 120"

1,000

3-120W9618WHD

$198.96

W9618WHD

$48.68

# 3-120W9618WHD

96 X 18 X 120"

1,000 shelf cap lbs

96 X 24 X 120"

600

3-120W9624WH

$211.28

W9624WH

$52.79

# 3-120W9624WH

96 X 24 X 120"

600 shelf cap lbs

96 X 24 X 120"

1,000

3-120W9624WHD

$222.96

W9624WHD

$56.68

# 3-120W9624WHD

96 X 24 X 120"

1,000 shelf cap lbs

96 X 30 X 120"

600

3-120W9630WH

$235.28

W9630WH

$60.79

# 3-120W9630WH

96 X 30 X 120"

600 shelf cap lbs

96 X 30 X 120"

1,000

3-120W9630WHD

$246.96

W9630WHD

$64.68

# 3-120W9630WHD

96 X 30 X 120"

1,000 shelf cap lbs

96 X 36 X 120"

600

3-120W9636WH

$259.43

W9636WH

$68.84

# 3-120W9636WH

96 X 36 X 120"

600 shelf cap lbs

96 X 36 X 120"

1,000

3-120W9636WHD

$271.12

W9636WHD

$72.74

# 3-120W9636WHD

96 X 36 X 120"

1,000 shelf cap lbs

96 X 48 X 120"

600

3-120W9648WH

$314.62

W9648WH

$87.24

# 3-120W9648WH

96 X 48 X 120"

600 shelf cap lbs

96 X 48 X 120"

1,000

3-120W9648WHD

$326.30

W9648WHD

$91.13

# 3-120W9648WHD

96 X 48 X 120"

1,000 shelf cap lbs